Typical Classroom Scenario:
Teacher assigns a reading, vocabulary, a worksheet, an article, an essay for homework. The teacher has high expectations that all their students come to school with their homework completed and they'll be able to discuss the work with them during class.
However, the next day arrives and only a few of your students have actually done the work. Well, the teacher can't move on and they can't have the discussion they prepared. So, they spend the class period going over the homework to ensure that every student accesses the content. Those students who did the homework are bored and not challenged and those who didn't do the homework think they got away with something. Now the teacher has lost valuable instructional time with the students.
Remind101.com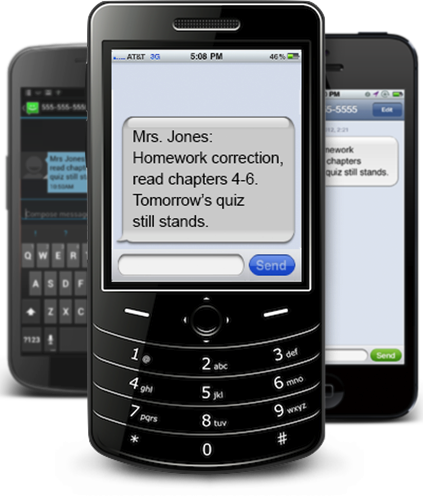 Remind 101
Remind 101
is a SAFE, FREE, one-way text messaging service created for teachers to communicate with students and parents. Students don't get your phone number and you don't get theirs - SAFE. Students can't message you back - SAFE. It doesn't cost you a thing to sign up - FREE. It doesn't cost your students or parents anything to sign up - FREE.
Remind 101
is online AND it's an app on Google Play and in the App Store for Apple products. You can send a reminder whenever and wherever.
You can also schedule a reminder to
PARENTS
that will be sent via text and no charge to you. Send reminders for important conferences, PTO, games, and other school events via text message. They will never see your number with messages sent via
Remind 101
.
Fast. Safe. Easy.
Teachers never see students' phone numbers. Students never see theirs.